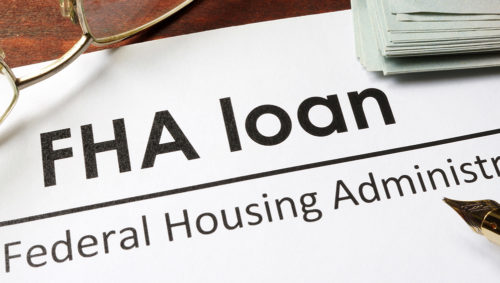 An FHA loan is a mortgage insured by the Federal Housing Administration. With a minimum 3.5% down payment for borrowers with a credit score of 580 or higher, FHA loans are popular among first-time home buyers who have little savings or flawed credit.
What is an FHA loan?
The FHA provides mortgage insurance on loans issued by private lenders, backing them financially in case borrowers default or do not honor the terms and conditions of their mortgages. The premiums on the insurance are paid by the borrower.
Only an FHA-approved lender can issue an FHA-insured loan. In addition to insuring a mortgage on single-family houses, an FHA loan can cover:
Dwellings in one- to four-unit structures.
Condominiums approved by the agency.
Manufactured and mobile homes.
Fixer-uppers. If you want to buy a house that needs repairs, you can use the FHA 203(k) loan option to roll the cost of your mortgage and renovation expenses into one loan. Likewise, to make changes to a home you own, you can refinance the mortgage balance and add the cost of repairs.
Going green. An FHA Energy Efficient Mortgage allows you to add expenses incurred for energy-related improvements to your home.
Reverse mortgages for seniors. If you're 62 years or older, and you own your home outright or have a low loan balance, you can turn some of your equity into cash with an FHA Reverse Mortgage.
FHA loans vs. conventional loans
FHA-insured loans come with competitive interest rates, smaller down payments and lower closing costs than conventional loans. Another FHA loan perk: A financial gift from a family member, employer or charitable organization can account for up to 100% of your down payment.
Required credit score
The FHA requires a minimum credit score of at least 580 to qualify for a 3.5% down payment, but a lower credit score doesn't automatically disqualify you.
This credit score requirement can vary by lender — some add "overlays" to their FHA loan qualifications and may require a higher score. That's a good reason to shop multiple lenders for your home loan, even for FHA loans.
For conventional loans, the minimum credit score varies by lender, but it often is 620.
Conventional and FHA loan limits
FHA loan limits vary based on location and property type (such as a single-family home or duplex) and are calculated as 115% of a county's median home price. You can find the mortgage limit for your area by using this tool.
FHA-insured reverse mortgages are limited to $679,650, with actual amounts based on the borrower's age and current interest rates.
Conventional loans limits are $453,100 in most areas and up to $679,650 in high-cost markets.
Minimum down payment
While the minimum down payment on an FHA loan is 3.5%, there are other mortgage programs that offer even lower minimums.
Some conventional mortgage programs allow down payments as small as 3%. As with FHA loans, these borrowers pay mortgage insurance.
According to the Urban Institute, private mortgage insurance on conventional loans tends to cost less than FHA mortgage insurance for borrowers with credit scores of 720 or higher. For borrowers with credit scores under 720, FHA mortgage insurance premiums tend to be less, according to the Urban Institute's analysis.
Interest rate
Interest rates on FHA and conventional mortgages tend to be about the same, according to the weekly mortgage rate survey conducted by the Mortgage Bankers Association.
Mortgage insurance cancellation
One downside to FHA loans is that FHA mortgage insurance stays for the life of the loan. Mortgage insurance on a conventional loan can typically be canceled after the balance of your mortgage drops below 80% of the appraised value of the home.
Maximum debt-to-income ratio
Lenders don't want you to get so saddled with debt that you can't make your house payments. So they calculate your debt-to-income ratio, or DTI, to see what percentage of your pretax income goes toward your minimum debt payments. DTI includes the mortgage, auto loans, minimum credit card payments, student loans, child support and any other regular debt payments. FHA and conventional lenders prefer borrowers with DTIs under 50% except in special cases. A DTI well under 40% is even better.
FHA mortgage insurance
An FHA loan requires mortgage insurance. First, that means paying a one-time, upfront mortgage insurance premium equal to 1.75% of the loan amount to close the loan.
FHA loans also require ongoing mortgage insurance, in the form of an annual premium that is folded into monthly payments. For 30-year loans of $625,500 or less and with a 3.5% down payment, the annual premium is 0.85% of the loan amount. On a $100,000 loan, that's $850 a year or $70.83 a month. For loans with other terms, amounts and down payment sizes, FHA annual premiums vary from 0.45% to 1.05%.
Mortgage insurance isn't unique to FHA loans; it's typically required on most conventional loans if the down payment is less than 20%. Private mortgage insurance on conventional loans is sold by a financial institution rather than the government.
On an FHA loan, you can pay the upfront mortgage insurance premium at closing, or you can have it added to the borrowed amount. If you go the second route, though, the monthly payments will be higher.
Other FHA loan requirements
In addition to putting down at least 3.5% of the purchase price with a minimum 580 credit score, or 10% down with a 500 to 579 credit score, you'll need to:
Have a valid Social Security number.
Provide proof of U.S. citizenship, evidence of legal permanent residency or eligibility to work in the United States.
Be old enough to sign a mortgage under your state's borrowing laws.
How to find an FHA lender and apply for an FHA mortgage
Not all lenders will process an FHA-backed loan. Those that do can add loan criteria above and beyond FHA requirements, so you'll need to do a little homework.