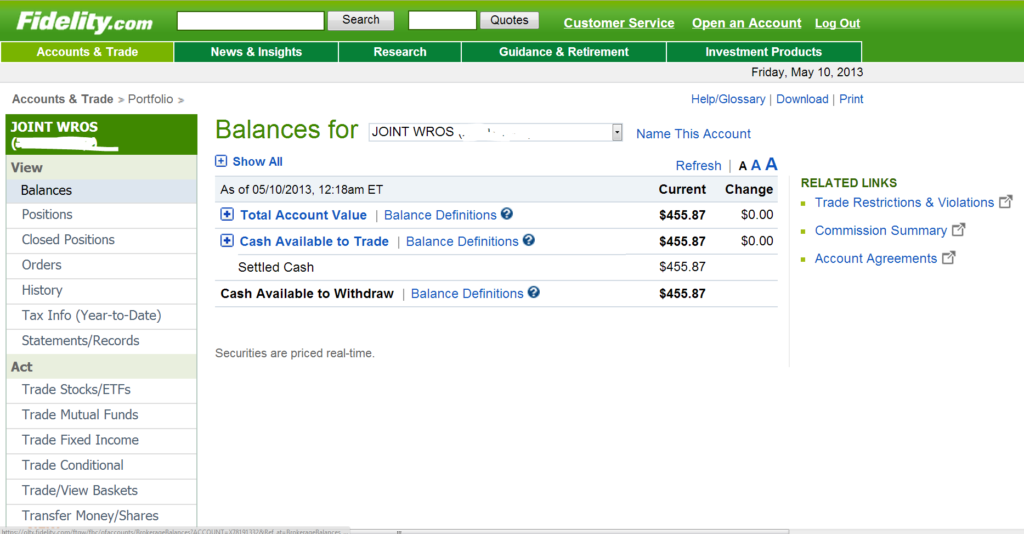 What is a brokerage account?
A brokerage account is an investment account. Once you've deposited money into a brokerage account, you can use that money to buy investments like stocks, bonds and mutual funds. You can open a brokerage account at an online broker.
Is a brokerage account right for you?
YES, A BROKERAGE ACCOUNT IS A GOOD CHOICE IF …
You want to purchase and manage your own investments. To do so, you need a brokerage account.
You want to invest money for retirement (and you're already contributing enough to earn a 401(k) match, if your employer offers one). In this case, you want a specific type of brokerage account called a Roth or traditional IRA. These have important tax benefits.
OTHER ACCOUNTS MIGHT BE A BETTER FIT IF …
You'd rather have someone else do the day-to-day work of managing your retirement account or other investments. If this sounds appealing, consider opening your brokerage account at a robo-advisor, which is a low-cost alternative to a human investment manager. A robo-advisor will choose and manage your investments for you, based on your goals.
You are saving for a goal you want to accomplish in the next five years. With that short time horizon, steer clear of the stock market and consider an online savings account or other short-term investments.
Nervous about investing?
Given a long time horizon, money invested in the stock market can grow tenfold, compared to sitting in cash or a low-rate savings account where you run the risk of actually losing purchasing power to inflation.
But despite that, 39% of Americans say they aren't investing, according to a 2018 online survey conducted by The Harris Poll. Of them, 32% say they prefer to have money in cash versus investing because it's easier to access their money, and 28% say they prefer to hold cash because they don't know how to invest (that's where the aforementioned robo-advisors can come in handy). Another 28% think investing is too risky. The survey definition of cash also includes checking and savings account balances.
In reality, when you're investing for a long-term goal like retirement, not investing is risky — most people simply can't save enough to fund their retirement needs. Stock market returns pick up the slack.
According to NerdWallet's survey, Americans on average currently hold $32,286 in cash. (Worth noting: The median amount Americans have in cash is just $2,000, suggesting some wealthy savers are skewing the average figure.)
While everyone should have some emergency cash on hand, anyone who keeps excess cash is doing so at a cost. Our calculations show that over 30 years, every $10,000 kept in cash instead of investing amounts to roughly $44,000 in lost returns.
Curious what your excess cash is costing you? Run your own numbers with the calculator.
How to choose a brokerage account
You'll likely want to open an account with an online broker, which will allow you to buy and sell investments easily via its website or trading platform. Before you open an account, figure out which online broker is best for you, based on a few key factors:
Investment selection: You'll want to pick a broker that offers a wide range of investments. Brokerage accounts allow you to buy and sell everything from individual stocks to complex investments like currency, futures and options contracts. You can build a diversified portfolio with just a few mutual funds.
Commissions: Nearly all online brokers will charge a trade commission, typically $5 to $10 per trade. (One notable exception: Robinhood, an investing app, offers commission-free trades.) A broker's commission will apply to trades of stocks, options and exchange-traded funds. You may also be charged a transaction fee for buying mutual funds; however, many brokers offer commission-free ETFs and no-transaction-fee mutual funds.
Account fees: These include annual fees, inactivity fees, and extra charges for trading platforms, research and data. These charges can be avoided completely in many cases by choosing the right broker.
How often you plan to trade: If you plan to trade frequently, you'll want to find a broker with low commissions. If you don't anticipate trading often, be sure the broker doesn't charge inactivity fees.
Support: Brokers offer varying levels of educational and customer support. Make sure the one you choose has resources available to answer your questions.
Minimums: A broker's minimum deposit requirement can range from $0 to $2,500 or more.
How to open a brokerage account
Setting up a brokerage account is a simple process — you can typically complete an application online. (In most states, you'll need to be 18 to open your own account, but here's how parents can set up a brokerage account for their kids.)
Once you've opened the account, you'll need to initiate a deposit or funds transfer (often of a minimum amount, as noted above). The funds transfer process can take anywhere from a few days to a week. Once that is complete, you can begin investing.
You might be asked if you want a cash account or a margin account. A margin account allows you to borrow money from the broker in order to make trades, but you'll pay interest and it's risky. Generally, it's best to stick with a cash account at first.