Housing expenses, including seniors, constitute a significant portion of most people's budgets. Managing housing costs becomes crucial for many seniors living on fixed incomes like Social Security payments. A popular method employed by many seniors to reduce housing expenses is opting to live in a "mobile home."
First and foremost, understanding what a mobile home entails is crucial. Historically, this term was widely used to describe any residence without a permanent foundation. However, in 1976, the government discontinued the usage of the term "mobile home" and instead adopted three categories: Recreational Vehicles (RVs), modular homes, and manufactured homes. What people commonly refer to as a "mobile home" is now officially designated as a manufactured home. These homes are constructed in a factory and later assembled on the designated site. Once assembled, they are not truly "mobile," which explains the name change.
Manufactured homes offer a more cost-effective option than traditional homes, and numerous manufactured home communities are tailored exclusively to seniors (typically 55 years of age and up). These communities not only offer more affordable living options but also provide various advantages and benefits to seniors, as elaborated below. Following that, the best "mobile home" deals for seniors in 2022 will be listed. It is essential to understand that these homes and communities are not "trailers" or RVs. They resemble and function like regular homes, though often without a private yard or garage, and are generally more modest in size.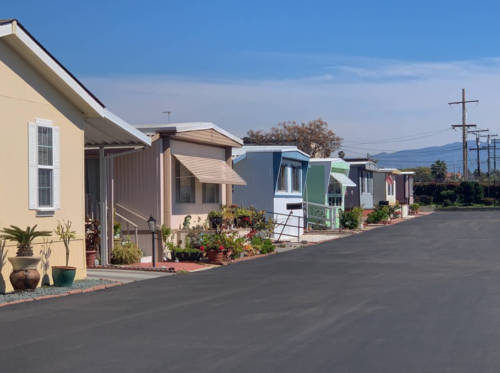 Advantages and Benefits
Cost-Effective: Manufactured homes stand out as one of the most budget-friendly housing choices available. Studies reveal that homeowners spent an average of $57,700 for single-wide manufactured homes, ranging from 784 to 1,440 square feet. This is significantly less expensive than a traditional home or condo.
Low-Maintenance: Unlike traditional private houses, manufactured homes demand minimal upkeep. Typically, you'll only need to handle routine house chores and occasional repairs.
Senior-Oriented Community: In a senior manufactured home community, you'll find yourself among like-minded individuals. These communities offer a range of recreational and social amenities tailored to seniors, ensuring a vibrant social life. Additionally, they boast excellent security measures, including gates and sometimes even guards. The best part is you can affordably maintain an independent lifestyle in your own private home without ever feeling isolated.
Below, we've compiled some of the top manufactured home deals for seniors.
The Grove
Situated in Bradenton, FL, near the Tampa/St. Petersburg area on Florida's west (Gulf) coast, this 55+ community offers some of the most affordable housing options in the country, with an average home price of just $48,000.
Nestled within a sprawling 40-acre park, The Grove comprises over 270 homes, granting residents access to numerous artificial ponds, picnic spots, heated pools, and communal clubhouses. Embracing the pleasant Florida climate, residents can bid farewell to harsh winters in this idyllic setting.
Lady Lake
Located in the central part of Florida, approximately an hour's drive from Disney World, Universal Studios, and other renowned Orlando attractions, this upscale 55+ community offers a prime location for enjoying your retirement years in luxury. Nestled in Lady Lake, Florida, this manufactured home community features exquisitely designed and well-constructed modern homes that epitomize luxury living. Furthermore, residents can indulge in the splendor of stunning amenities, including a lavish clubhouse, making this an ideal destination for peak retirement living in the Sunshine State.
Wymberly
Situated in the esteemed community of Martinez, Georgia, and serving as a suburb of Augusta, this community boasts a prime location with convenient access to numerous medical, shopping, entertainment, and cultural venues. As an upscale residential area, it offers residents a delightful picnic grove, a luxurious clubhouse, and access to a magnificent golf course. With an average home price of $120,000, this community presents an excellent opportunity for a sophisticated and comfortable lifestyle.
Tyrone Woods
Tyrone Woods is an incredibly affordable community, with an average home price of just $50,000. Nestled in Fenton, Michigan, near the city of Flint, this community caters to both seniors and families, making it an excellent choice for those who prefer a diverse and inclusive environment. If you wish to have your grandkids stay with you long-term, you're in luck, as the community is family-friendly, and there's a highly-rated school district to support their education.
Tyrone Woods offers a plethora of amenities, including spas and parks, ensuring residents have ample opportunities for relaxation and recreation. Moreover, Fenton itself provides numerous shopping and cultural experiences to enjoy, making this community a truly appealing destination for an affordable and fulfilling lifestyle.
Cider Mill Crossings
This community is conveniently situated in Fenton, Michigan, offering a diverse selection of senior manufactured homes for sale. Prices vary between $60,000 to $200,000, depending on your preferred type and size of home. Moreover, the community boasts numerous amenities for residents to enjoy. You'll have access to their… (the text was cut off; please provide the continuation of the text, and I'll be happy to help you rewrite it.)
El Valle Del Sol
Located in Mission, Texas, in the scenic Rio Grande Valley area, this community offers rental homes for those seeking a temporary or long-term residence. Its proximity to South Padre Island and other Gulf Coast towns and attractions adds to its allure. The average monthly rent is an economical $430, with short-term and long-term lease options available. Apart from serving as a fantastic alternative to a hotel, this community also provides an affordable opportunity to experience the pleasures of manufactured home living before committing to a purchase.