Call center customer service representatives play a crucial role in addressing inquiries and resolving issues on behalf of organizations. In Canada, customer service is regarded as a vital element by over 95 percent of shoppers, influencing their loyalty to a brand.
Statistics indicate that 40 percent of customers have a preference for engaging with a live representative over the phone, particularly when dealing with complex interactions such as payment disputes or significant inquiries.
For Canadian seniors seeking customer service roles, it is essential to possess skills such as patience, politeness, and fluency in the required language. Nearly 70 percent of individuals believe that the cornerstone of exceptional customer service lies in the presence of a courteous customer service representative. Demonstrating clear communication skills, active listening, and the ability to handle various customer interactions, including venting or addressing seemingly trivial inquiries, is crucial for success in this position.
Remote customer service jobs in call centers offer hourly pay ranging from $15 to $25, which can vary based on factors such as the volume or nature of the accounts handled. Certain positions may compensate based on the number of emails or social media messages answered or resolved. Additionally, some roles may include commission or bonus structures, providing opportunities to increase earnings. With flexible scheduling options, you have the freedom to work as much as desired. Many remote customer service agents work between 25 to 40 hours per week. Take a moment to compare these call center positions that allow you to work comfortably from your own home, and kickstart your application today.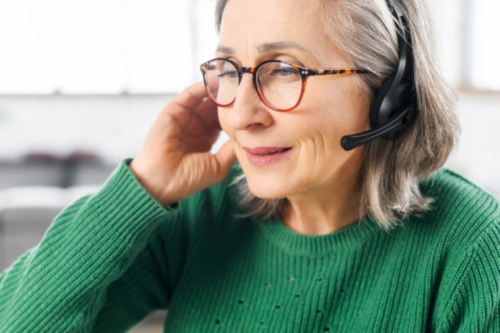 Senior Customer Support Representative (Remote) with Maximus Canada
Victoria, BC
Maximus Canada holds a prominent position in its industry, specializing in delivering products and services that support government entities in North America and worldwide. With numerous offices located across Canada and globally, Maximus plays a vital role in enhancing the effectiveness and efficiency of government programs and services. Through innovative, practical, and valuable solutions, Maximus contributes to the improvement of government operations on various fronts.
Maximus Canada continuously explores emerging technologies, innovative methodologies, and improved ways to serve the Canadian population. Their expertise in program information management, claims processing, contact center services, document processing, and information technology positions them for significant growth. By leveraging these capabilities, Maximus Canada is well-equipped to expand its operations and further enhance its service offerings.
Key responsibilities:
• Addressing all inquiries from citizens with courtesy and promptness.
• Consulting the Knowledge Base to find suitable responses to requests.
• Offering feedback on the effectiveness of the Knowledge Base and reporting call trends.
• Utilizing publicly accessible websites of the British Columbian government to determine and provide accurate responses.
• Referring or transferring requests to the relevant resources within a Provincial Ministry or Business Area.
• Maintaining respectful, collaborative, and professional interactions with callers, clients, and colleagues to foster a harmonious and productive work environment.
Salary: $23.17 an hour
Canadian Customer Service Agent with Group Insurance, Excellent Pay, and Benefits
Montréal, QC
By being an attentive listener, conducting oneself professionally, and building trust, you can deliver exceptional and tailored customer experiences. As an applicant, it is crucial to proactively understand customer needs and diligently seek the most suitable solutions and advice to assist them.
The team at iA Financial Group seeks individuals who are driven and eager to contribute to enhancing customer service practices, all while working remotely without engaging in sales or solicitation. When you join iA Financial Group, you will undergo a paid 5-week training course and receive ongoing support from a dedicated trainer and coach to facilitate your professional growth.
Key responsibilities:
• Acquiring expertise in effective phone and email practices to ensure exceptional customer experiences.
• Gaining comprehensive knowledge of insurance products and financial services.
• Proficiently resolving intricate cases.
• Mastering the utilization of relevant software and work tools essential for the role.
Benefits:
• Competitive minimum hourly wage starting at $23.90, commensurate with experience.
• Stable work routine with a 35-hour weekly schedule, Monday to Friday, between 8 AM and 9:30 PM, set one month in advance.
• Telework option available (with occasional office attendance required at least once a month).
• Supportive managers who value team autonomy.
• iA offers favorable working conditions, including a comprehensive health program, ongoing training, and growth opportunities within a rapidly expanding company.
• Enjoy a pleasant work environment with wonderful colleagues, fostering a fun-filled atmosphere.
Salary: $23.90 an hour
Customer Service Help Desk, Remote Senior Position with Flexible Hours
Ontario, CA
Our company receives invaluable support from the customer service team at Staples. Their confidence, expertise, and unwavering commitment to our customers are truly commendable. We strive to deeply comprehend our customers' requirements, offer tailored solutions that align with their business needs, and provide unwavering assistance throughout the entire process. We take great pride in our pivotal role in ensuring our customers enjoy a seamless and satisfactory experience.
Key responsibilities:
• Addresses escalated calls as requested and diligently follows up on customer issues.
• Maintains a comprehensive supervisory log for effective tracking and documentation.
• Identifies and tracks common questions and trends, effectively communicating them to relevant internal stakeholders.
• Meets and consistently maintains the department's production standards. • Fulfills any other related duties as necessary or requested.
Benefits:
• Fostered inclusive culture with associate-led Business Resource Groups, promoting diversity and collaboration.
• Enjoy flexible Paid Time Off (22 days) and a comprehensive Holiday Schedule (7 observed paid holidays).
• Access to online and retail discounts, along with a Company Match RRSP program.
• Comprehensive Physical and Mental Health Wellness programs.
• Numerous additional perks and benefits to enhance the overall employee experience.
Salary: $16.15 an hour