If you're looking to purchase or lease a new or used car and want a quick way to sell your old vehicle, trading it in at a dealership could be the ideal solution. With this process, you sell your previous car directly to the dealer, and the amount they offer is deducted from the price of the car you wish to purchase.
Selling your car quickly and securing an excellent negotiated price is straightforward at dealerships nationwide.
During the transaction, the dealership representative may have the car test driven to assess its value before presenting you with an offer. Rather than receiving cash, this deal is designed to facilitate the purchase of another vehicle. If you decide to accept the offer, simply sign over the car's title to finalize the transaction.
Leasing and trade-ins complement each other seamlessly. Not only can you put your trade-in towards a lease, but you can also trade in or sell your leased car for more than its residual value. This strategy can result in long-term savings, depending on various factors. Read on to explore more essential details about fast car selling in 2023.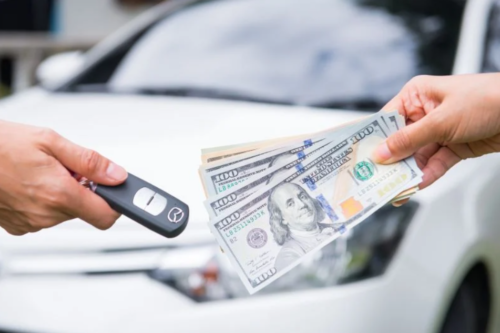 Car Dealerships are a One Stop Shop for Selling Your Car Fast and Receiving Finance
When it comes to trading in or selling your vehicle, your local car dealer can streamline the entire process. Just bring your previous vehicle to the dealership, and you can drive your new one home hassle-free. While having an approved financing arrangement with a bank or credit union is recommended, it's not always necessary.
Remember that if you don't already have a pre-approved offer from another lender, the dealership may not be incentivized to find you a loan that perfectly fits your needs. However, if you're looking to sell your car quickly, you don't necessarily have to make a trade-in with the dealership. They may also be willing to make you an honest cash offer for your vehicle.
Advantages of Choosing a Car Dealership:
• Finding potential buyers on your behalf
• Providing a free appraisal service
• Skillfully negotiating the best price for your vehicle
• Handling all the necessary paperwork to finalize the sale and transfer the title
• Offering assistance in securing a car loan through the dealership
The Dealer Prepares the Paperwork and May Also Handle Any Tax Rebates On a New Vehicle
Transferring and selling a vehicle often involves a substantial amount of paperwork. Things can get even more complex if you're selling the car in a state different from its registration or if you reside in a different state altogether. However, choosing to trade in or sell your used vehicle at a dealership can simplify matters significantly. They take care of the paperwork; you only need to sign the necessary documents and pay the associated fees for their assistance.
Moreover, dealerships can also coordinate your tax documents, leading to potential savings when purchasing a new vehicle. For example, let's say you're buying a brand-new car priced at $40,000 and agree to trade in your old vehicle, valued by the dealer at $15,000. This means your total net payment becomes $25,000. Many dealerships calculate the sales tax based on the net payment of $25,000 rather than the full $40,000 cost of the new car you're purchasing, resulting in potential tax savings for you.
Trading Your Old Car For a Newly Leased Vehicle May Save You Hundreds on Monthly Payments
When you're looking for maximum flexibility, combining the trade-in of your old vehicle with a new car lease is an excellent strategy. By utilizing the funds from the trade-in as a down payment for the lease, you can significantly reduce the overall cost of acquiring the new vehicle. Consequently, this reduction may lead to lower monthly lease payments, a reduced initial payment, or even both.
Traditional car purchasers pay the full specified amount for the vehicle, typically obtaining a loan from a financial institution to finance the purchase. In contrast, lease customers only pay for the depreciation that occurs during the lease term, along with interest. This amount is divided into an initial deposit and equal monthly payments.
At the end of the lease, the vehicle is usually returned to the location where the contract was signed. Some leases may also allow for the transfer of the vehicle to a franchised new car dealer of the same brand. This option provides added convenience and flexibility for lease customers.
Following a Few Crucial Steps Can Help You Get the Best Price for Your Vehicle
When you trade your vehicle into a dealership, you're essentially selling it to them at the best possible price. While many of the preparations are similar to a private transaction, there's a significant advantage: the vehicle typically doesn't require any repairs beforehand. The dealer can handle any necessary fixes before reselling it.
To demonstrate that you've taken good care of your vehicle, keeping all service records and receipts organized in one place is essential. It's also a good idea to provide invoices for recent updates, such as tires and brakes, to showcase the vehicle's well-maintained condition. These factors can potentially increase the car's selling price and expedite the entire process.
For a quick car sale, consider these tips:
• Thoroughly clean your car to make it presentable.
• Research and understand your car's current market value.
• Settle any outstanding parking tickets or dues.
• Skillfully negotiate to secure the best selling price.