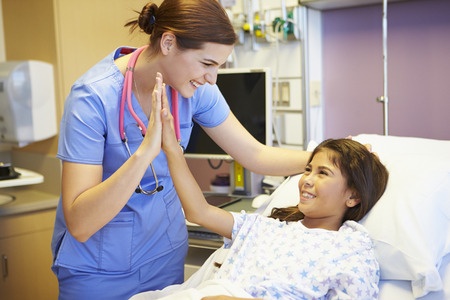 It goes without saying that nursing is one of the most wholesome, respected and admired occupations on the planet – but, quite often, a nurse's salary can be much less than most people think he/she deserves.
Granted, registered nurses earn, on average, upwards of $70,000 in the United States – which is hardly a small amount of money – but when you consider that they're often putting their lives on the line to care for others, then compare their salaries to, say, a professional athlete, they're undoubtedly worth more.
Fortunately, by earning additional certifications, undertaking advanced degrees, and/or specializing in one particular area of nursing, any given nurse can increase their earning potential dramatically.
In this piece, we'll take you through ten of the highest-paid nursing careers that pay better than you think!
10. Registered Nurse First Assistant
A registered nurse first assistant (RNFA for short) is a registered nurse who essentially works as a first assistant to the surgeon during surgical operations – but the specifics of the role and what it entails can vary greatly depending on the institution.
To become an RNFA, any given applicant must have substantial perioperative experience, a CNOR certification, an active and unencumbered RN license, a bachelor's degree, and 2,000 hours of experience working as an RNFA.
Registered nurse first assistants can work in hospitals, ambulatory surgical centers, research, outpatient same-day surgery centers, private offices, staffing agencies and product development.
Salary (average): $96,418.
9. Family Nurse Practitioner
Family nurse practitioners (FNPs) are the individuals who most closely operate like a primary care physician. Typically, FNPs will perform many of the same functions as an MD and their responsibilities can include things like patient consultations, prescribing medications and treatment, and conducting assessments.
To become an FNP, candidates must earn the Family Nurse Practitioner-Board Certified (FNP-BC) designation.
Family nurse practitioners can work in hospitals, clinics, freestanding ambulatory centers, staffing agencies and urgent care centers.
Salary (average): $98,408.
8. Nursing Administrator
A nursing administrator is exactly what it sounds like – they deal with the behind-the-scenes operations of nursing, which include things like budgeting, staff management and HR functions.
To become a nursing administrator, a Master's Degree in Healthcare Administration is usually required, as is state licensing. Some nursing administrators will also have a Masters in Business Administration.
Nursing administrators can work in hospitals, private practice, clinics, healthcare companies and staffing agencies.
Salary (average): $99,730.
7. Pain Management Nurse
A pain management nurse will help patients with chronic pain issues, as well as managing a patient's pain post-surgery. He or she will work within a healthcare team to help determine both the cause of the pain and the correct course of treatment, as well as teach patients about pain management and avoiding addiction or dependence on prescribed medication.
To become a pain management nurse, an advanced degree isn't actually necessary. All that's required to be considered for certification as a pain management specialist is sufficient experience as an RN.
Pain management nurses can work in hospitals, rehabilitation centers, drug counselling centers, drug dependency clinics, oncology clinics, sports rehabilitation facilities, long-term care facilities, fitness centers and staffing agencies.
Salary (average): $101,916.
6. Neonatal Intensive Care Nurse
A neonatal intensive care nurse looks after newborn infants who are born with a variety of problems. Those problems can range from being born prematurely, birth defects, infections, cardiac malformations and surgical problems – a neonatal intensive care nurse will care for infants from the time of their birth until their discharge from hospital.
To become a neonatal intensive care nurse, it is possible to get neonatal unit experience as a staff RN. However, earning either a neonatal nurse practitioner (NNP) or neonatal clinical nurse specialist (CNS) designation is the best way to advance in this role – and that route also comes with a salary increase. Any nurse wishing to earn certification without an advanced practice degree can earn their RNC-NIC.
Neonatal intensive care nurses can work in hospitals, private practices, birth centers, neonatal intensive care units, well-baby units, newborn nurseries, private consultancies, pediatric outpatient clinics and staffing agencies.
Salary (average): $102,487.
5. Certified Nurse Midwife
Certified nurse midwives focus on obstetrics, labor, delivery and prenatal care – so for any registered nurses who love babies, it's the perfect career progression for them.
To become a certified nurse midwife, nurses can go through the American Midwifery Certification Board to earn the Certified Nurse-Midwife and Certified Midwife designations.
Certified nurse midwives can work in hospitals, private practice clinics, freestanding birthing clinics and staffing agencies.
Salary (average): $103,770.
4. Psychiatric Nurse Practitioner
Psychiatric nurse practitioners have a keen interest in mental health and tend to work with psychiatric medical physicians and counsel patients regarding mental health disorders. They may also work with patients who suffer from both mental health disorders and substance abuse issues.
To become a psychiatric nurse practitioner, a Master of Science in Nursing (MSN) is the minimum degree requirement – and it would generally be followed by earning a Psychiatric Nurse Practitioner license as specified by individual states.
Psychiatric nurse practitioners can work in hospitals, inpatient psychiatric hospitals, mental health units, outpatient clinics and staffing agencies.
Salary (average): $105,658.
3. Clinical Nurse Specialist
Clinical nurse specialists tend to work in specialized units or clinics, diagnosing and treating various conditions – possibly specializing in a specific illness. They focus on improving the status of nursing at the hospital and are involved in both research and bettering the care provided in the healthcare setting.
To become a clinical nurse specialist, any given candidate must earn a Master of Science in Nursing, with a specialization in clinical nursing.
Clinical nurse specialists can work in hospitals, clinics, private practices and staffing agencies.
Salary (average): $106,028.
2. General Nurse Practitioner
General nurse practitioners cover most areas of medicine and can either choose to open an independent practice or work in a variety of primary care settings. Their potential for advancement and higher earnings are great and they can later choose to specialize in a particular field, if they so wish.
To become a general nurse practitioner, a Master of Science in Nursing (MSN) is the absolute minimum degree requirement, followed by earning a Nurse Practitioner license (which may differ by state).
General nurse practitioners can work in hospitals, clinics, private practices, urgent care, outpatient clinics and staffing agencies.
Salary (average): $107,030.
1. Certified Registered Nurse Anesthetist
Certified registered nurse anesthatists (CRNAs) are highly skilled professionals who prepare and administer anesthesia to patients in collaboration with surgeons, anesthesiologists, dentists, podiatrists and other qualified healthcare professionals.
To become a CRNA, individuals must earn a minimum of a master's degree from an accredited nurse anesthesia educational program and then, upon completion, pass the National Certification Examination.
CRNAs can work in hospitals, clinics, pain management centers, free-standing surgical centers, ambulatory centers and staffing agencies.
Salary (average): $167,950.