An abandoned property refers to a dwelling or structure that has remained vacant for a minimum of one year or has been relinquished by its owners. Such properties encompass a range of abandoned buildings where the owners have abandoned their rights. Understanding the reasons behind the abandonment is crucial when contemplating a purchase.
The demand for abandoned homes is rising, particularly in the current market conditions, as habitable properties are being sold at incredibly low prices.
Abandoned properties can result from various circumstances, such as foreclosures resulting from evictions due to non-payment of mortgages or other reasons. In such cases, if the property remains unsold and unoccupied for an extended period, typically over a year, it becomes classified as an abandoned home. Additionally, when the owner passes away, and no one assumes responsibility for the property's maintenance or sale, it is also deemed abandoned.
It is important to differentiate between abandoned homes and vacant houses that are still owned by the proprietor, as well as properties that are deemed unsuitable for habitation according to local government regulations. While some abandoned properties may be suitable for living, the majority of them require significant maintenance and renovations. However, the initial investment in making the property habitable can be justified by the potential increase in its value after renovations. Before venturing into the real estate market, comparing these abandoned properties and gathering essential information is crucial. This will allow you to confidently approach the developer market and establish a strong position in 2023.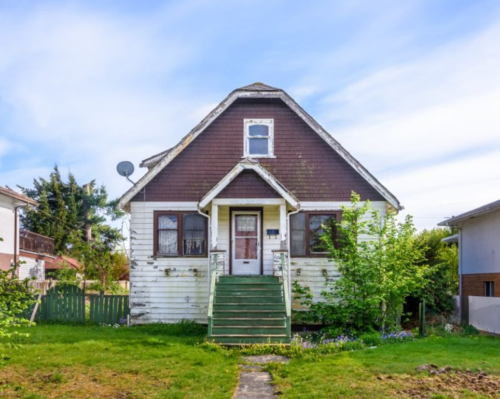 Finding The Right Abandoned Property is Key to Success in the Ever Growing Developer Market
Just like finding regular properties, you can employ similar techniques to discover vacant real estate. One option is to team up with a real estate agent or conduct your own investigation. Look out for abandoned houses and other unoccupied properties in the specific neighborhood where you aim to purchase a home. Typically, they stand out with their worn-out appearance.
Local online publications are a reliable go-to when it comes to finding auction or foreclosure listings. Social networking communities and Google searches can also lead you to potential sources. Auctions can be quite thrilling, and you can observe the proceedings without initially placing a bid. In case a property doesn't sell for the reserve price at a foreclosure or open auction, you always have the option to negotiate a private deal with the seller.
Get The Best Early Bird Purchase Price and Contact the Proprietor Directly Before Auction
Get ready to do a little detective work to track down the owner of a property that hasn't been listed for auction yet. Begin by reaching out to the county registrar for tax records, as they can provide you with the owners' names. Once you have their names, you can proceed to hunt for their contact information.
If you're eager to find out when a property will be up for sale, get in touch with the county registrar. Purchasing a foreclosure becomes simpler when there are outstanding back taxes. However, it's essential to be well-acquainted with the auction's terms and conditions, including the reserve price and the estimated amount required to secure the winning Bid, well in advance.
In some cases, the homeowner may not be readily identifiable in public records. Leaving a calling card at the property or inquiring locally can yield valuable information in such situations. Locating the owners is crucial to schedule a property inspection, assess the risks involved, and make an early offer.
A Home Inspection Helps Decide The Benefits and Risks of Making an Abandoned Property Purchase
If you have the financial means, it's advisable to arrange a professional home inspection before investing in a non-auctioned house. This step is crucial because if the property requires significant repairs, it could turn into a financial burden, draining your resources. It's better to be aware of any potential issues beforehand to avoid ending up with a money pit.
Once you have the opportunity to inspect the property, assess the required home upkeep and repairs needed to make the house livable. Pay close attention to the inspection report, as you might be required to complete the necessary work before closing, depending on the type of financing you have. Awareness of these requirements is crucial to ensure a smooth process.
While abandoned homes may appear to be more affordable to acquire, they can potentially turn out to be poor long-term investments. That's why it's crucial to carefully evaluate the pros and cons of a property, considering factors such as its price, condition, and required maintenance. Additionally, when determining a sale price, it's important to take into account the values of neighboring properties. Making a well-informed decision requires weighing these factors to ensure a wise investment choice.
The US Department of Treasury Holds Regular Online Auctions for Abandoned and Seized Properties
Every day, the US Department of Treasury holds auctions for thousands of abandoned properties. Here's an example for you to consider and compare:
Single Family Home
Seized Real Property in conjunction with IRS-CI
5961 South Firebird Way, Saint George, Utah 84790
ONLINE AUCTION:
• Auction Date and Time: Thursday, April 20, 2023, from 9am-11am PT (12-2pm ET)
• Inspections: Saturday, April 8 and 15, 10am-12pm
• Deposit: $20,000 cashier's check
• Starting Bid: $100,000
• Terms of Sale: Deposit due no later than April 19
Property Description:
This 2-level home offers approximately 1,678 sq. ft. of living space with 4 bedrooms, 2.1 baths, a kitchen, dining room, living room, 2nd-floor laundry room, patio, and a convenient built-in 2-car garage. It is situated in the Desert Bluffs at Desert Canyons community. As per the Terms of Sale, the property is sold in its current condition, "AS IS WHERE IS WITH ALL FAULTS," which includes any applicable violations (including fines and penalties). The transfer of ownership will be facilitated through a Government Deed, ensuring a clear title.